Athens Style: Indigo Child
Aspen Fairchild November 11, 2016 Athens Style, Fashion
Words by Maddie Newton. Photos by Savannah Shaw.
Indigo Child is a hip and new, rock-inspired clothing and lifestyle boutique with a vintage flare nestled in downtown Athens that opened in late October. Morgan Miller is the twenty-five-year-old boss lady, Fashion Merchandising graduate from University of Alabama, and owner/operator of Indigo Child. I met with Morgan to learn all of the inside deets about her unique shop.
Morgan centers her shop around what an "Indigo Child" really is: someone who is creative, influential and ahead of their time. She wanted her store to mimic that vibe and be a laidback hangout for people to shop, listen to music and just chill. Music is one of Morgan's biggest inspirations and the reason why she brought Indigo Child all the way to Athens.
Widespread Panic, who's southern rock jams originated out of the Classic City, is one of Morgan's favorite bands. You could call her one of their biggest fans since she followed them around on tour and collected countless posters that now adorn the walls of Indigo Child.
Old School rock, funky jams and Athens' notable music scene are essential to and immensely influence Indigo Child's overall aesthetic. In fact, you'll walk through their door to find a rustic, wooden stage surrounded by leather couches, floor pillows and comfy chairs to watch and listen to tunes from local bands! Adding an authentic feature, guitars signed by The Beatles, Led Zeppelin and Pink Floyd are mounted and on display beside the stage.
Indigo Child's clothing reflects their décor to a high degree. Seventies-inspired graphic tees from Electric West and Wildfox, Indigo Child brand's bell bottoms, leather jackets, bodysuits and far-out rompers from For Love & Lemons can all be spotted hanging on one of their racks. Morgan's love for rock and its iconic apparel (more specifically, bell bottoms) propelled her to start her own business. One day, she hopes to be at the point where she designs all of Indigo Child's clothing.
Indigo Child has many unique attributes that contribute to their originality. "Good Karma" is a section of Indigo Child where men and women can shop for hand-picked vintage clothing in almost every size. There's anywhere from old football jerseys to mom jeans and corduroy cut-offs to Patagonia jackets that await to be discovered in Good Karma.
Indigo Child is even partnering with Georgia brands for the better. Mamie Ruth, a brand based out of Savannah, Georgia and headed by designer and owner, Emily Bargeron, partnered with Indigo Child to benefit Athens' homeless population. Mamie Ruth donates shirts to Indigo Child who then turns their profits from Mamie's donated line into food and hygiene goodie bags. Whenever a customer buys a shirt from Mamie's donated collection, they'll receive one of these bags to give to the homeless or someone less fortunate. Morgan's helpful heart doesn't stop there. Indigo Child will be carrying Happy Feat, a nonprofit organization whose merchandise benefits children and people with special needs.
Indigo Child is also the only brick and mortar store to this date that carries Jimmi wZ leather bags. Morgan worked for Jimmi while she was at the University of Alabama, attending trunk shows and managing his social media accounts. On top of all of this, Indigo Child carries good hYOUman brand and Guat Handmade.
Come by and shop or listen to live performances at Athens newest and grooviest boutique and make sure to follow Indigo Child on Instagram to keep up to date with the store happenings!
___________________________________________________________________________________________________________________
The Indigo Child boutique plans expansion amid early success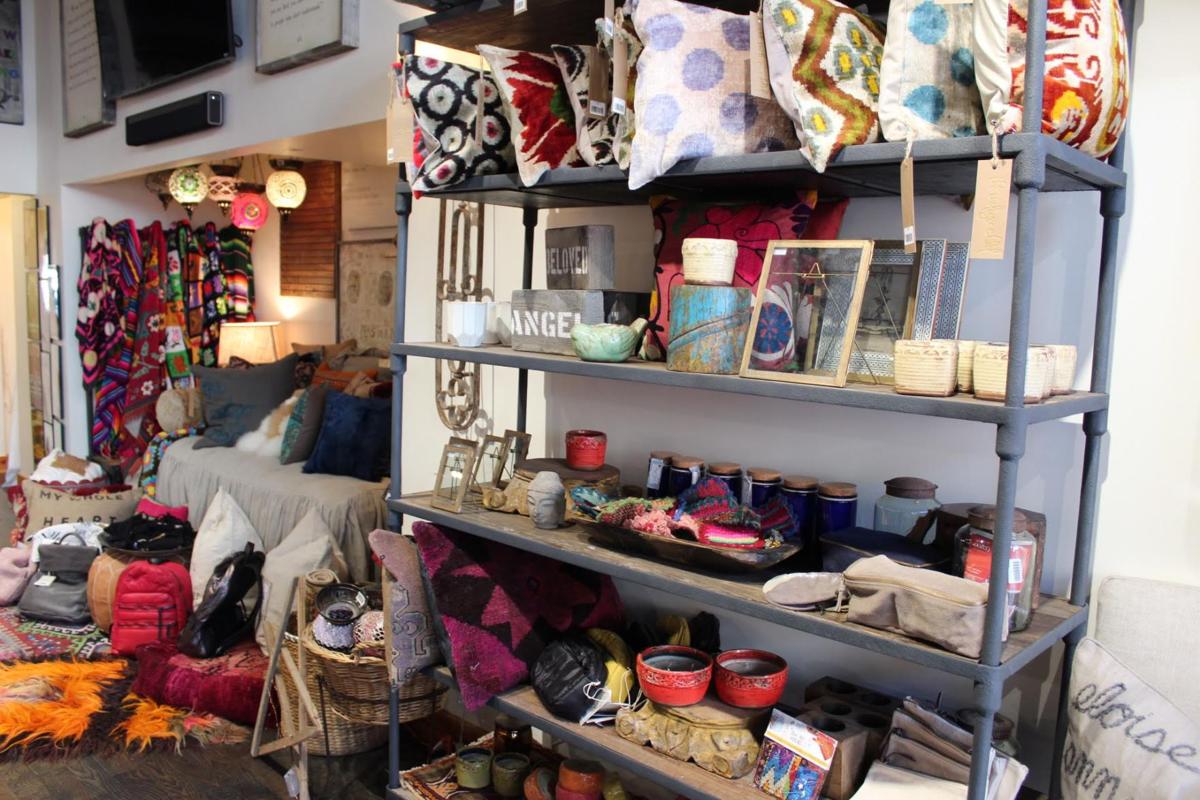 "Classic rock 'n' roll funk" is not how one would describe many of the boutiques in downtown Athens. However, this aesthetic allowed The Indigo Child to experience rapid popularity and steady growth.
After graduating from the University of Alabama with a degree in fashion, owner Morgan Miller experienced a whirlwind summer before opening the boutique.
The date of the store opening lined up perfectly with her fiancé's educational aspirations and an open location on Clayton Street.
"It was either (Terry College) or Georgia State, and it was kind of luck of the draw that we ended up here. We were driving down Clayton and I saw it. I counted the windows and it was just enough for Indigo," Miller said.
The store's doors were opened on Oct. 22, and it has only grown since then. The store theme is inspired by The Indigo Child "concept about creative kids who try and do different things, think outside of the box," Miller said.
This concept is how she has been able to incorporate a home goods section containing vibrant pillows and decorative lanterns in the same room as clothing items such as velvet bell bottoms and silk slip dresses. The store also contains a mixture of vintage pieces and new designer pieces as well as price-friendly clothes along with high-end clothes.
"These are all the things that I love, and I just put them in one place," Miller said. "That's something I pride myself on, trying to reach so many different crowds on one floor."
The unique style of the boutique is not its only source of success, however, as the shop owner has become somewhat of a professional social media promoter.
"We do everything on Instagram. I don't do marketing through anything else. I don't put ads anywhere," Miller said. "It's word of mouth and Instagram, and obviously foot traffic."
This Instagram success has led to out-of-state sales for the boutique despite its lack of an official online store. Fortunately, this gap in the boutique's internet presence will soon be filled as there are major expansions planned for the business in both the physical and online formats. A second home goods storefront will open directly next to The Indigo Child.
"The upstairs of that building will be all of our website sales," Miller said. "Hopefully by February."
In addition, Miller desires to expand the home goods venture further in the form of a mobile app where the boutique will deliver the home goods to students.
"What we're going to work on right now is an app that's kind of like a turn-key for when parents bring their kids to college," said Miller. "You don't know what to buy, what the floor plan is, or what the measurements are. So we're going to set up twenty different room looks that you can pick from."
Miller's vision and enthusiasm is reflected in the words of the store's customers.
"You can't really get any of the things they sell there anywhere else, the Jimmi wZ bags, for example," Aaron Amin said. "Or all those old jerseys."
Amin noted that the store has clothing for both men and women, a fairly unique concept when quite a few boutiques in downtown Athens have a predominantly female demographic. This male customer base is something that the boutique hopes to delve into further, with brief talks of "Indigo Dude" being mentioned.
Miller's efforts toward growing her store are supported in the words of Debi Dunavant West, a customer as well as a jewelry designer who creates stamped pieces for the location.
"I definitely think that her creativity, her kind heart, will go far," West said.
It's easy to envision the store doing well, when its owner shows clear business prowess.
"I know the style and what women like, but it's just keeping up with it and making sure you have new stuff, staying on top of your game," Miller said. "What you have to do is make it different and keep it moving."
All of these factors, from the store's strong social media presence to its physical expansion, have contributed to the immense success of the boutique thus far.
According to Miller, the addition of The Indigo Child to the downtown Athens has started to cultivate a healthy competition among boutiques.
"I think a lot of people are stepping their game up, Miller said. "I think that's good though."
http://www.redandblack.com/culture/the-indigo-child-boutique-plans-expansion-amid-early-success/article_9cc1e51c-dfeb-11e6-8b9c-9b40b1928072.html
________________________________________________________________________________________________________________________________________________________________________________________________
Local Business Matters: Q&A with The Indigo Child
Morgan Miller, owner of The Indigo Child in downtown Athens, stands inside the store, which sells clothing, jewelry, home decor and furniture. Hilary Butschek/Staff
The Indigo Child is a boutique downtown that recently opened on East Clayton Street.
The store sells clothing, jewelry, household goods, furniture and home decor.
Morgan Miller, a recent University of Alabama graduate with a degree in fashion merchandising, opened the store downtown.
Inside the walls are decorated with vintage concert posters and quotes from classic books.
The store has clothes for the gym, a night out or everyday wear. Although most of the clothing is for women, there is a small men's section as well.
There are also lighting fixtures, rugs, pillows and chairs for sale.
Miller spoke with the Athens Banner-Herald about her store, which is located at 264 East Clayton Street. The Indigo Child is open from 10 a.m.-8 p.m. Mondays through Saturdays and 11 a.m.-6 p.m. on Sundays.
Q: Why did you decide to open this store?
A: I always wanted to open a store. I graduated from (the University of) Alabama last December, me and my fiance. He was trying to decide if he was going to go to Georgia State for accounting or (the University of Georgia). We got really lucky, and it kind of ended up that this was in the cards for us. Then I was like, 'Athens is a cool town,' and we were driving down Clayton (Street), and I counted the number of the windows, and it was perfect because there was one window for every letter in the word indigo. And, that was it.
Q: Where did the name of the store come from?
A: An indigo child is someone who is really creative. They have specific traits. They're very outside the box thinkers, unconventional, and I think that's how I am and how my style is. I think that portrays me through and through.
Q: How do you choose the inventory here?
A: The things I sell are all my favorite things, and I just put them in one place. I knew the brands I liked to wear, and I was always looking for new brands online that other places didn't have. … What I try and do that I pride myself on is that my grandma shops here and so does my 15-year-old sister, so I wanted to hit every price point and every age, and I feel like with my inventory I can do that.
Q: You said you always wanted to own a store, tell me more about that.
A: I have always loved clothes since I was a little kid. If I didn't like my outfit, I'd change it like four times. My mom had to put a lock on my closet. I went to Alabama and did fashion merchandising, and I think that's when I was like, 'I could do this.'
Q: What do you like about owning a store?
A: I always say I have the best job in the whole world. I just love interacting with people, seeing how different people wear the same things and just being hands on and being able to pick the clothes and make it exactly what I want it to be. It feels good to make people feel good about themselves and them feeling good about what they're wearing.
___________________________________________________________________________________________________________________________________________________________________________________________________________________________________
The Red & Black picks the best of campus and the Classic City
http://www.redandblack.com/culture/the-red-black-picks-the-best-of-campus-and-the/article_8d714538-bbe9-11e6-9462-6715dfd06639.html